"HIV is a disease with stigma and we have learned with experience, not just with HIV and AIDS but with other diseases, countries for many reasons are sometimes hesitant to admit they have a problem"

– Margaret Chan
Established in 2010 as the World AIDS Day Committee (WADC), for the past four years GrenAIDS has been at the forefront of HIV/AIDS and STI public education in Grenada. The organization continues to grow, and the annual review of 2014 indicates that it was the most accomplished year since its inception.
Our collective membership, which consists of HIV/AIDS peer educators, government employees, civil society, and youth volunteers, work hand in hand to complete projects and programmes that are designed to achieve positive behavioural changes. Having a deep appreciation for volunteerism and community outreach, GrenAIDS programmes and activities are financed through small grant awards and generous donations from the private sector.
This is an overview of the organization's recent achievements.
Love Without Fear
Utilizing a small grant award received from the Caribbean HIV/AIDS Alliance (CHAA), GrenCHAP collaborated with GrenAIDS to produce a video campaign, "Love without Fear."
The campaign features one documentary and four public service ads, tackling HIV/AIDS stigma & discrimination, STI testing, consistent condom use, and diversity. The general public can expect to review these productions on local channels and social media in 2015.
Supporting Persons Living with HIV/AIDS
One of the major challenges that Persons Living with HIV/AIDS (PLHIV) face is unemployment. This adversely impacts their capacity to provide daily meals, which are an essential component of treatment adherence. GrenAIDS provided PLHIV with 297 food baskets throughout the year. Support for this initiative was received from CHAA, SGU Vagina Monologues and the Caribbean Treatment Action Group (CTAG). Additionally, the organization provided 6 households with stoves, mattresses and pot sets in Grenada and Carriacou.
Outreach through Poetry
Throughout the entire process GrenAIDS has sought opportunities to transfer our HIV/AIDS knowledge to the wider community. In May, a workshop was hosted 12 poets in Grenada, including some members from the Writers Association of Grenada.
The poets participated in two full-day workshops where they obtained information on the types of STDs and STIs, how they are transmitted, the intersection between Gender-Based Violence (GBV) and HIV infection, stigma & discrimination and human rights, gender and sexuality. They were also given an opportunity to dispel some of the myths about Sexually Transmitted Diseases and Infections, as well as listen to some testimonies from persons infected and affected by HIV and AIDS.
The poets were then challenged to use the information obtained to write pieces that can be used to sensitize the public in a creative and engaging way. Thus far, they have performed at 4 venues in Grenada, and their pieces will be recorded and shared via social media and local media houses in 2015.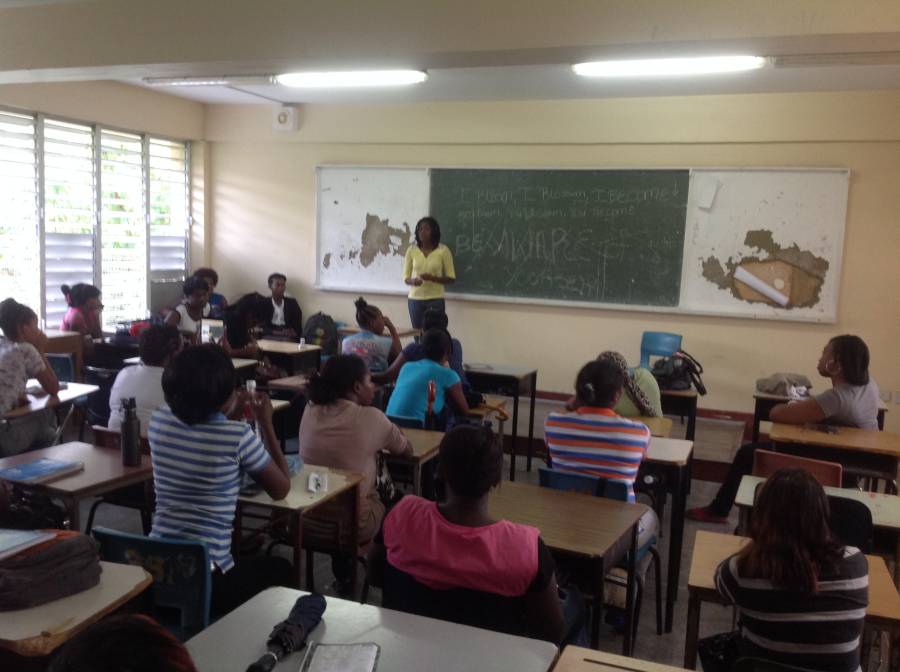 Focus Group
The organization also conducted a focus group with clients to assess their immediate needs to gain an understanding of what we will have to do to help them maintain a healthy lifestyle. Two of the issues resounding in the feedback, were unemployment and treatment adherence. As a result, those are at the forefront of our plans for 2015.
Coding and confidentiality workshop for health care providers
GrenAIDS in collaboration with GrenCHAP and Ministry of Health, conducted a two-day workshop on coding and confidentiality for persons within the health sector. The workshop additionally addressed issues of patient care, and adherence counselling, among other topics. We were fortunate to have Mr Francis Burnett, managing director, OECS PPS, facilitating a session on "A fresh look at antiretroviral therapy." The goal of the workshop is to improve the delivery of Health Care services to persons living with HIV and AIDS.
GrenAIDS thanks all the individuals and organizations that have contributed to our growth over the years, as we continue to play our part to incite positive behaviour change in Grenada.
To find out more and stay updated please join our Facebook Group. To join us, email us at grenaidscommittee@gmail.com
https://grenchap.org/wp-content/uploads/2016/05/grenchap_logo-300x68.png
0
0
aquaGD
https://grenchap.org/wp-content/uploads/2016/05/grenchap_logo-300x68.png
aquaGD
2016-05-05 15:25:06
2016-06-22 13:55:36
GrenAIDS Year in Review